Land Acknowledgement
UMBC was established upon the land of the Piscataway and Susquehannock peoples. Over time, citizens of many more Indigenous nations have come to reside in this region. We humbly offer our respect to all past, present, and future Indigenous people connected to this place.
Please read here for more information on the purpose of land acknowledgment. 
Although this statement is the current (October 12, 2020) Land Acknowledgement Statement, this may be updated by OEI and Inclusion Council as the need arises.
What is CERA? Why Visit?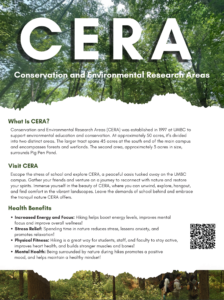 Highlights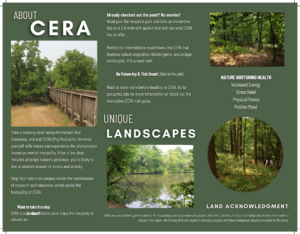 History
Former UMBC President Freeman Hrabowski dedicated portions of UMBC campus as Conservation and Environmental Research Areas (CERA) on Earth Day, April 22, 1997, "to further our understanding and appreciation of this natural landscape." During the ceremony, the words of Aldo Leopold were recalled:" When we see land as a community to which we belong, we may begin to use it with love and respect."
Extent
At present, CERA covers about 50 acres of the UMBC landscape, and is located in two different areas. The larger tract, covering approximately 45 acres of the south end of the main campus, is comprised of a wide variety of ecological conditions: mature upland forest, early- and mid- successional forest, and riparian and wetland environments. The second, and much smaller CERA area (about 3 acres), surrounds Pigpen Pond. There are also several areas within CERA where evidence of previous human occupancy and use can be found.
Uses
All of CERA is open for exploration by the UMBC community.
Since its dedication, CERA has been used for a variety of undergraduate research projects, visited by a number of classes, and has been the focus of class projects. Faculty and students desiring further information or who wish to utilize CERA for research and teaching are encouraged to contact the CERA Steering Committee (cera@umbc.edu).
When Visiting CERA
Please do not disturb or remove anything from CERA. "Take only photographs; leave only footprints."
CERA Trail and Interpretive Points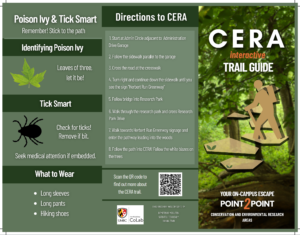 Download Guide to Navigating CERA
The CERA Trail is a .6-mile self-guided interpretive path that provides information regarding the ecology and natural history of the area.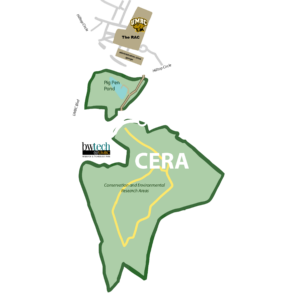 CERA is an extensive green space…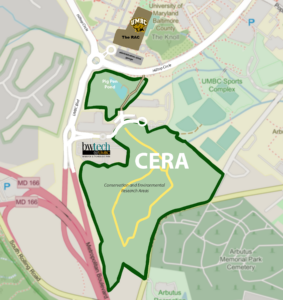 …and is considered part of the UMBC campus.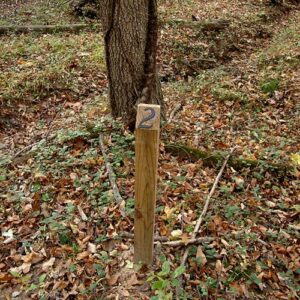 Numbered wooden posts are placed at intervals along the trail (see map). These intervals are known as "Interpretive Points" (images linked below).
CERA Interpretive Points:
#1 #2 #3 #4 #5 #6 #7 #8 #9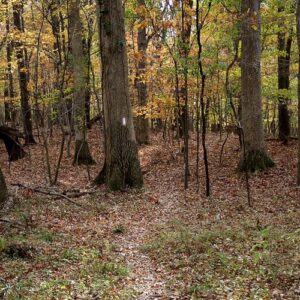 In addition to wooden posts, the trail is also marked by white blazes placed at eye level on trees.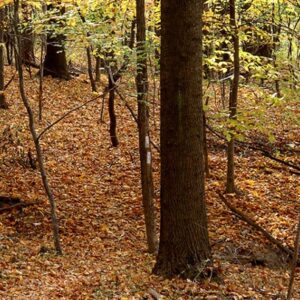 A change in direction is indicated by a double blaze.
Poison ivy is a woody vine that thrives along much of the CERA Trail. Because contact with poison ivy can cause dermatitis, it's important to know what it looks like and to avoid touching it.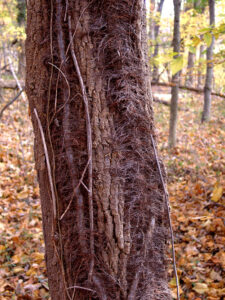 Poison ivy grows as a hairy vine that climbs upward on tree trunks. It also grows as upright woody stems from an underground runner.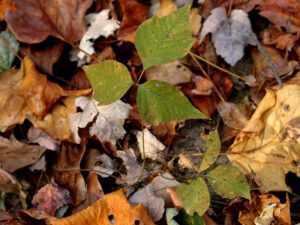 Between April and October, poison ivy will have leaves arranged in groups of three ("leaflets three, let it be"). It also has white berries in the autumn ("berries white, poisonous sight"). Avoid touching any hairy vines or any leaves arranged in groups of three. Dermatitis from poison ivy usually begins as an itch that quickly becomes red and blistery. Wash any exposed skin with soap and water after finishing this hike, and launder your clothes promptly. On a more positive note, more than 60 species of birds eat poison ivy berries, including northern flickers, mockingbirds, and downy woodpeckers.
For more detailed information about CERA and to contribute your own observations send an email to the CERA Steering Committee (cera@umbc.edu).
CERA Imagery