WELCOME!
A hallmark of the Department of Geography & Environmental Systems is its broadly integrative nature, drawing on the expertise of faculty with diverse backgrounds but with a common mission. Research interests among current regular departmental faculty span a broad range of topics in earth systems science, ecosystem science, human geography and urban geography, and human dimensions of global change, with application of geospatial technology to research questions across all areas of interest. Despite the diversity of research and teaching interests, there is a common focus on the importance of coupled natural and human systems and on landscape pattern in relation to human activities and their environmental consequences, and we see this as a broad programmatic thrust for our graduate degree offerings. Research based in the Department of Geography and Environmental Systems involves interdisciplinary collaborative work of local, regional and international scope.
The department offers M.S. and Ph.D. degrees in Geography & Environmental Systems; an accelerated B.S./M.S. program; an undergraduate Certificate in GIScience; and a Professional Masters program in GIScience that is offered for working professionals at the Shady Grove campus in the suburbs of Washington D.C. All Ph.D. students are guaranteed at least two years of funding and most are supported throughout their graduate careers on some combination of externally funded research grants, teaching assistantships, fellowship awards, or agency employment. We do not guarantee support for M.S. students but many of our Masters students are able to find support from faculty research grants, public agencies, teaching assistantships, and other on-campus opportunities including the Shriver Center Peaceworkers program for returning Peace Corps volunteers.
We currently serve an undergraduate student population of 320 majors in four degree programs (B.S. Environmental Science, B.A. Environmental Studies, B.S. and B.A. in Geography) as well as about 1600-1800 students per year in our own GES 100-level courses and another 600 in an interdisciplinary 100-level lab science course focusing on water that is taught by one of our faculty. These courses meet university distribution requirements in natural science, laboratory science, social science, and culture.
The department today can best be described as a community committed to interdisciplinary scholarship, to high quality teaching and mentoring of undergraduate and graduate students, and to mutual success and collaboration. Our faculty are active researchers and committed and talented educators. We are also known on campus for excellence in mentoring and advising students, for engaging both undergraduate and graduate students in research (including authorship on refereed journal papers), and for preparing students for success in graduate school and professional careers. Five of our current and recent graduates (two graduate students and three undergraduate students) have received Fulbright fellowships for study abroad in the last two academic years.
UMBC is a founding member of a new consortium of 14 U.S. academic institutions and key partners addressing challenges that threaten urban water systems in the United States and around the world. With support from a $12 million cooperative agreement from the National Science Foundation, Colorado State University is leading a collaborative effort to establish the Urban Water Innovation Network (UWIN). The mission of UWIN is to create technological, institutional, and management solutions to help communities increase resilience of their water systems and enhance preparedness for responding to water crises.
Claire Welty, Professor of Chemical, Biochemical and Environmental Engineering and Director of the Center for Urban Environmental Research and Education at UMBC, serves as the associate director of research for the UWIN project. Other UMBC faculty involved with UWIN include Professors Andrew Miller and Christopher Swan of the Department of Geography & Environmental Systems. The UWIN project takes advantage of UMBC's strong research and educational programs in urban water, including stormwater management and green infrastructure, water quality control, groundwater-surface water interactions, urban flood dynamics, and urban biodiversity
GES STUDENTS PATRICE WILLIAMS AND JARED MARGULIES WIN FULBRIGHT FELLOWSHIPS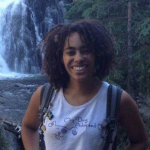 For her Fulbright Fellowship, Patrice Williams, who graduated with her B.S. in Environmental Science in December 2014, will be conducting research La Hesperia, a cloud forest reserve in Ecuador, to investigate how tree species composition changes with elevation and how forest composition influences the role of forests in carbon sequestration.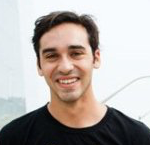 Jared Margulies, a PhD candidate in GES, Fulbright Fellowship will support his dissertation research project entitled Animals in the Anthropocene: The Production of Space for Megafauna in Southwest India. The purpose of his study is to examine the role that large mammals play in the production of state infrastructure projects in southwest India, and how these projects in turn influence human-wildlife interactions. The study will investigate the drivers and consequences of state approaches to tiger and elephant conservation that focus on infrastructure projects, including the construction of electric fences and elephant-proof trenches. He will also examine how, paradoxically, such efforts to reduce certain forms of human-wildlife interactions may produce new forms of human-wildlife conflict. To understand how this approach to conservation governance impacts human-wildlife interactions beyond tigers and elephants, he will also give attention to a lesser-studied species found across a range of human-modified habitats—the Indian leopard.
Previous GES Fulbright Fellowship Recipients:
Mitchell Donovan
Madeline Hall
SUSTAINABILITY CHAMPION
Dr. Christopher Swan, GES Department
An interview with a leading researcher at UMBC
In this interview, UMBC Sustainability's Laura Bartock ('2013) asks GES Professor Christopher Swan about sustainability and his research.
DR. ERLE ELLIS AWARDED NSF GRANT FOR HIS RESEARCH ON "GLOBE"
GLOBE aims to transform land change science by creating new global scientific workflows that integrate local-, regional- and global-scale researchers, expertise and data based their global relevance using an online collaboration environment leveraging social-computational algorithms and real-time quantitative global and statistical visualization. Click here to read more about the research. 

Click here for the NSF Grant Award Page
Dr. Ellis BLOGs about Building a Toolbox for Global Thinking

INTERESTED IN EARNING A MASTERS IN 5 YEARS? YOU MAY WANT TO CONSIDER THE DEPARTMENT'S BS/MS FIVE-YEAR PATHWAY PROGRAM
Undergraduate students interested in this program should consult with their GES faculty advisor as early in their academic career as possible. The advisor will verify that the student's academic progress is sufficiently advanced to allow successful completion of the requisite graduate-level courses while also completing the requirements for the Bachelor's degree in their senior year. Given advisor consent and approval by the GES graduate program director, students in their Junior year secure permission to join the pathway, allowing them to take up to three graduate-level courses, including GES 601/602, during their senior year. This permission requires a form filled out by the student and signed by the GPD that the student files with the UMBC Graduate School (Application form). In their Senior year, students then take the GRE and apply for admission to the GES MS program following the regular graduate admissions process.Remember, see your advisor to find out more. 
CHECK OUT THE DEPARTMENT'S M.P.S. PROGRAM IN GEOGRAPHIC INFORMATION SYSTEMS AT THE SHADY GROVE CAMPUS
The Master in Professional Studies (M.P.S.) in Geographic Information Systems (GIS) is a 30-credit graduate program that will provide an advanced-level of education to professionals working or interested in the region's geospatial technology industry.
Click here for more information.