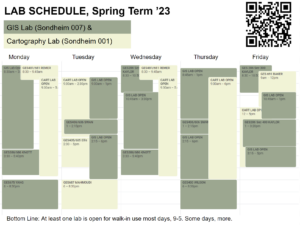 Cartography Lab (Sond 001) Schedule – Spring 2023
GIS Lab (Sond 007) Schedule – Spring 2023
The Cartography & GIS labs are currently running Windows 10/11 on Dell XPS 8930s.

Computers are equipped with:
9th Generation Intel i7 Processors
32GB of RAM
At least 256GB SSD storage, some with expanded 4TB SATA storage
GeForce GTX 1060 GPUs with 6GB of RAM
32″ monitor or dual 19″ monitors
Each machine is loaded with a variety of software packages designed to aid the student in classes as well as individual research projects. Some of the software used includes image analysis software such as ENVI and IDL, ESRI's ArcGIS and ArcPro, QGIS, R, and python.