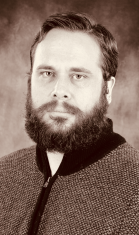 Ph.D Ohio State University, 2009
Graduate Program Director
Associate Professor
dlansing@umbc.edu
http://lansing.weebly.com
Research Interests
My research interests are on the intersection of conservation policy and rural livelihoods. Drawing on political ecology, science and technology studies (STS), and theories of agrarian change I seek to explain how conservation policy is formed and implemented, and the effects it has on land use and the livelihoods of small farmers. I mostly work in Costa Rica, but I also have ongoing research in Maryland's Eastern Shore, and have conducted research in Honduras. Most of my empirical work is centered on "market based" conservation policies such as carbon offsets and ecosystem service payments. I employ a variety of methods, and I have used a combination of quantitative surveys, qualitative interviews, archival work, textual analysis, remote sensing, GIS, and ethnography.
Recent Research Activities
Governing Antimicrobial Resistant Bacteria
This work is concerned with the world of bacteria and our efforts to govern their evolution. The continued spread of antimicrobial resistant bacteria is poised to be the largest public health threat in the 21st century. The last few years have seen a rise in governmental responses to dealing with this potential public health crisis. They involve an expansive collection of state and non-state actors across multiple, and diverse, domains. Places such as hospitals, dairy farms, wastewater treatment plants, and the human body become key sites of knowledge production and points of intervention in the spread of antimicrobial resistance. This project examines how various actors across such diverse domains become enrolled in a global project of tracking, and preventing, the evolution of antimicrobial resistant bacteria. This project encompasses two parts.
1) Antibiotic Use Among Dairy and Cattle Farmers: This project examines how and why different kinds of antimicrobial regulations have emerged across distinct governmental domains, and how this complex matrix of regulations and best practice guidelines become translated into agricultural practices among dairy cow and beef cattle farmers in the United States. This multidisciplinary work is being carried out in conjunction with engineers, microbiologists, and extension officers at the University of Maryland College Park, Cornell University, University of Nebraska, Ithaca College, and The U.S Department of Agriculture. My work utilizes surveys, interviews, and ethnographic techniques to understand the different ways that farmers encounter bacteria and how they negotiate the twin demands of treating animals as both subjects of medical treatment and agricultural production.
2) One Health as a Paradigm for the Environment: The framework of One Health has been deployed by global health institutions as a way to recognize, and manage, the interconnected risk of health threats across animal, human, and environmental domains. Despite this laudable goal, there are significant differences among scientists across disciplines that can preclude effective, or even basic, integration of ideas. Our work seeks to understand core ontological differences across the veterinary, environmental, and medical sciences by examining how key ideas such as "the environment" and "genes" are used across different scientific disciplines studying antimicrobial resistance. We use bibliometric techniques to understand the contours of this research, and to examine assumptions about the world that both enable and constrain how different scientific disciplines approach antimicrobial resistance.
Carbon Offset Development
This project examines the politics of carbon offset development, and the impact of carbon payments among indigenous smallholders in Costa Rica. Carbon offsets are a "market-based" conservation mechanism where farmers receive payments from "upstream" carbon polluters for planting carbon-capturing trees on their land. My research explores how gender differences, uneven patterns of land accumulation, and non-market forms of labor produces a complex and uneven terrain of land use practices; how these practices are interpreted by scientists and economists in the process of creating a carbon "price tag" for land use changes; and the resulting impacts of this process on indigenous land use and livelihoods.
Payments for Ecosystem Services
This research examines Costa Rica's long running ecosystem service payment program. My work in this area covers three themes:
1)

Access barriers to program participation

. The Costa Rican government often promotes their policy as one of poverty reduction as well as a conservation policy, yet the policy remains difficult to access for many smallholding farmers. This research examines the many, and often, hidden barriers for smallholders to access state ecosystem service payments. In so doing it questions the extent to which ecosystem service payments are a market mechanism for conservation and examines how the long history of the peasantry's relationship with the state has resulted in contemporary exclusions from this policy.
2)

Policy effectiveness among smallholders

. There is a great deal of debate over whether ecosystem service payments produce new forms of forest cover or subsidize existing stands of forest. Very little of this research has examined smallholders, and their unique production logics, specifically. This research uses a combination of household surveys and remote sensing to examine the extent to which payments are producing additional forms of forest cover.
3)

The ecosystem service commodity chain

. This research examines how ecosystem payments are taken up along the forest commodity chain by agricultural and forestry industries. It reveals that some ecosystem service payments serve as indirect subsidies for banana and pineapple plantations. This work examines how and why such a state of affairs exists, and what it says about the nature of what an "ecosystem service" really is.
Political Ecology of Nutrient Management
This research is focused on farmers in Maryland's Eastern Shore and examines political conflict around land user regulations and the disconnect between environmental regulations and farmer attitudes toward data about nutrient pollution in the Chesapeake Bay. Doing so, this work examines how seemingly technical policies such as nutrient management plans are deeply politicized, and it explores how practices of accounting for nutrients are being shaped by the proliferation of data collection practices by farmers more generally.
Recent Publications 
Lansing DM, Grove KJ, and JL Rice. In-press. The neutral state: a genealogy of ecosystem service payments in Costa Rica. Conservation and Society.
Lansing DM. In-press. Smallholder participation in ecosystem service payments: evidence from Costa Rica. Human Ecology.
Lansing DM. In-press. Unequal access to payments for ecosystem services: the case of Costa Rica. Development and Change.
Lansing DM. In-press. Carbon forestry and sociospatial difference: an examination of two carbon offset projects among indigenous smallholders in Costa Rica. Society and Natural Resources.
Lansing DM. 2014. Discourse and the production of territorial hegemony: Indigenous peoples, the United Fruit Company, and the capitalist state in Costa Rica, 1872-1916. Journal of Historical Geography 45: 38-49.
Lansing DM. 2013. Understanding linkages between ecosystem service payments, forest plantations, and export agriculture. Geoforum 47: 103-112.
Lansing DM. 2013. Not all baselines are created equal: A Q methodology analysis of stakeholder participation in a carbon forestry offset project in Costa Rica. Global Environmental Change 23(3): 654-663.
Lansing DM. 2012. Performing carbon's materiality: the production of carbon offsets and the framing of exchange. Environment and Planning A 44(1): 204-220.
Lansing DM. 2011. Realizing carbon's value: discourse and calculation in the production of carbon forestry offsets in Costa Rica. Antipode 43(3): 731-753.
Lansing DM. 2010. Carbon's calculatory spaces: the emergence of carbon offsets in Costa Rica. Environment and Planning D: Society and Space 28(4): 710-725.
Lansing D. 2009. The spaces of social capital: livelihood geographies and marine conservation in the Cayos Cochinos Marine Protected Area, Honduras. Journal of Latin American Geography 8(1): 29-54.
Lansing D, Bidegaray P, Hansen D, McSweeney K. 2008. Placing the plantation in smallholder agriculture: evidence from Costa Rica. Ecological Engineering 34(4): 358-372.
Recent Presentations
Becoming Neutral: The Spaces of Carbon's Economization. Department of Human Geography "Economization of Nature" Seminar Series. Goethe University. Frankfurt, Germany. Dec. 2013.
The Spaces of Climate Change. Critical Climate Change Workshop. University of Minnesota. April, 2013.
The Nature of Ecological Rents. Association of American Geographers Annual Meeting. New York, NY. February, 2012.
Performing Carbon's Materiality. Critical Geography Conference. Clark University. November, 2011.
Ecosystem Payments, Agrarian Change, and Inequality: New Paradigms for Old Policies. Association of American Geographer's Annual Meeting. April 2011. Seattle, WA.
Courses Taught
Environmental Policy
Introduction to Human Geography
Global Environmental Change
Scientific Practice in Environmental Policy
Graduate Seminar: Governing Nature