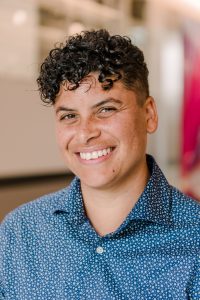 Ph.D., North Carolina State University,  2015
Assistant Professor
211-C Sondheim Hall
410-455-8897
chawn@umbc.edu
Research Interests: Conservation ecology, public science, environmental justice, trophic ecology, landscape ecology
Recent Research Activities:
Spidey Senser: A public science air quality monitoring using spider webs  
Detecting pharmaceuticals and personal care products in urban riparian spiders and their effects on density, prey availability, and behavior
Environmental justice concerns of houseless populations
The effects of corridors on food web subsidies in green lynx spiders

Selected Publications:
Johnson, K.M.S., A. Briggs, C.L. Hawn, N. Mantina, B.C. Woods. 2019. Inclusive practices for diverse student populations: Experimental Biology 2017. Advances in Physiology Education 43: 365–372.
Hawn, C.L, N.M. Haddad, S. Griffin, J. Herrmann. 2018. Connectivity increases food web subsidies in fragmented landscapes. Ecology Letters
Woods, B.C; C.L. Brown; M.A. Cobb. 2009. Elevation variation in life-history characteristics of populations of yellow-bellied marmots (Marmota flaviventris). Ethology, Ecology, and Evolution   21:381-392.
Hawn, C.L
▪ Lessons from another LTER: Habitat design restores habitat quality from the ground up ▪ Baltimore Ecosystem Study Annual Meeting
Brown, C.L,
N.M. Haddad, and J. Herrmann ▪ Corridors increase food web subsidies for isolated predators ▪ Ecological Society of America Meeting
Brown, C.L.
and N.M. Haddad ▪ Do corridors make bigger and better predators? The effects of connectivity on spider body condition ▪ Ecological Society of America Meeting
Brown, C.L.
and J. Resasco ▪ Do corridors increase predator macronutrient quality? Ecological Society of America Meeting
Courses Taught:
GES 120 – Introduction to Environmental Science Conservation
GES 400 – Conservation for the 21st Century
GES 400/600 – Public Science