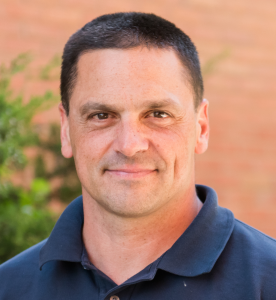 Ph.D., University of Michigan, Ann Arbor, 2002
Professor, UMBC NCAA Faculty Representative
211-K Sondheim Hall
410-455-3759
mbaker@umbc.edu
Research Interests
Watershed ecology; biodiversity, ecohydrology and biogeochemistry in urban and rural systems; riparian ecosystems; landscape ecology; geospatial applications
Recent Research Activities
Hydrographic densification across the Chesapeake Bay watershed (Chesapeake Bay Program)

Developing novel methods for high-resolution stream mapping (Chesapeake Bay Trust)
Measuring the impacts of stream restoration on physical habitat with remote observation from UAVs (MD SeaGrant)
Identification and quantification of channel incision across watersheds (Baltimore Ecosystem Study)
Novel approaches for measuring physical habitat in streams (MD SeaGrant)
Methods for quantifying urban landscape spatiotemporal heterogeneity (Baltimore Ecosystem Study)
Geomorphic effects of dam removal on the Patapsco River (American Rivers, NOAA)
Biodiversity, structural, and functional characteristics of forest patches along urban land use gradients (in partnership with Baltimore Greenspace, USFS, Baltimore Ecosystem Study)
Long-term change in urban forests: the ForestGEO network (Smithsonian Institution)
Threshold Indicator Taxa ANalysis (TITAN): download R package from CRAN here
Causal Analysis: applications of machine learning to inform hypotheses and structural equations
Unpacking impacts of impervious surface on stream assemblages (USGS, Mass. Dept Fish and Game)
Selected Recent Publications
* denotes student author
Phillips*, T, M Baker, K Lautar, I Yesilonis, M Pavao-Zuckerman. (in review). The capacity of urban forest patches to infiltrate stormwater is influenced by soil physical properties and soil moisture. Journal of Environmental Management.
Bezerra*, M, M Baker, M Palmer, S Filoso. (in review). Sugarcane agriculture exacerbates gully formation in headwater catchments in Brazil. Land Degradation & Development.
Van Appledorn* M, ME Baker, AJ Miller. (in revision). Empirical evaluation of 2D unsteady hydraulic models for applications in floodplain forest ecology. Freshwater Science.
Van Appledorn*, M and ME Baker. (in revision). Constraints on floodplain forest functional trait distributions: landform positioning modulates flood regime effect depending on hydro-geophysical context. Ecology.
Van Appledorn*, M and ME Baker. (in revision). Flooding does not always constrain riparian species composition: evidence of environmental filtering and limiting similarity in floodplain forests. Journal of Vegetation Science.
Baker, ME, ML Schley*, JO Sexton. (in revision). Impacts of expanding impervious surface on specific conductance in urbanizing streams. Water Resources Research.
Van Appledorn* M, ME Baker, AJ Miller. 2019. River-valley morphology, basin size, and flow-event magnitude interact to produce wide variation in flooding dynamics. Ecosphere 10(1):e02546.
Macchi, L, C Levers, M Baumann, M Baker, T Kummerle. 2019. Satellite-based tree and shrub cover reveal thresholds in the bird community of the South American dry Chaco. J. Applied Ecology 1-11, DOI: 10.1111/1365-2664.13342.
Dandois*, J, M Baker, M Olano, G Parker, E Ellis. 2017.  What is the Point? Using Computer Vision Point Clouds to Observe Vegetation Structure and Spectral Properties.  Remote Sensing doi:10.3390/rs9040355.
Collins, MJ, NP Snyder, G Boardman, WSL Banks, M Andrews, ME Baker, M Conlon, A Gellis, S McClain, A Miller, P Wilcock. 2017. Channel response to sediment release: insights from a paired dam-removal analysis.  Earth Surface Processes and Landforms 10.1002/esp.4108.
Donovan* M, AJ Miller, ME Baker. 2016. Reassessing the role of milldams in Piedmont floodplain development and remobilization. 2016. Geomorphology 268:133-145.
Utz, R, K Hopkins , D Booth , R Hawley , ME Baker, L Beesley , M Freeman, K Jones. 2016. Do specific natural watershed and channel attributes confer ecological resistance to urbanization in streams? Freshwater Science 35(1):380-397.
Lallement* M, P Macchi, P Vigliano, S Juarez, M Baker, N Bouwes, T Crowl. 2016. Rising from the ashes: changes in salmonid fish assemblages following the Puyehue-Cordon Caulle volcanic eruption. Science of the Total Environment 541:1041-105.
Koch, BJ, CM Febria, RM Cooke, JD Hosen*, ME Baker, AR Colson, S Filoso, K Hayhoe, JV Loperfido, AMK Stoner, MA Palmer. 2015. Suburban watershed nitrogen retention: estimating the effectiveness of stormwater management structures. Elementa 3:63 doi: 10.12952/journal.elementa.000063
Smith*, R, PD Venugopal*, ME Baker, WO Lamp. 2015. Regional and local processes structure a stream insect metacommunity in a partially urbanized landscape. Freshwater Biology doi: 10.1111/fwb.12605.
Suding, K, E Higgs, M Palmer, JB Callicott, CB Anderson, ME Baker, JJ Gutrich, KL Hondula, MC LaFevor, BMH Larson, A Randall, JB Ruhl, KZS Schwartz. 2015. Committing to ecological restoration. Science 348(6235):638-640
Dandois, JP, D Nadwodny*, E Anderson*, A Bofto*, ME Baker, EC Ellis. 2015. Forest census and map data for two temperate deciduous forest edge woodlot patches in Baltimore MD, USA. Ecology 96(6):1734-1734.
Donovan, M*, AJ Miller, ME Baker, A Gellis. 2015. Long-term sediment erosion from Mid-Atlantic tributaries of Chesapeake Bay. Geomorphology DOI: 10.1016/j.geomorph.2015.01.025.
Recent Presentations
Baker, ME, K Nelson*, R Wooldridge, A Miller, S Van Reswick, E Boyd, M Cashman, S McClain, M Andrews, M Collins.  Tracking Geomorphic Change and Downstream Progress of Sediment Released by Removal of Bloede Dam, Lower Patapsco River, Maryland.  AGU Annual Meeting, December 2018, Washington, DC.
Baker, D Saavedra and M. Norton. Development of Automated Channel Extraction From LiDAR in Chesapeake Bay Watersheds. Presentation to the STAR workgroup, Chesapeake Bay Program, November 2018, Annapolis, MD.
Baker, ME. Assessing causality in stream assessment and restoration: a case study in Appalachian surface mining. Invited presentation, Smithsonian Environmental Research Center, November 2018, Edgewater, MD.
Baker, ME and D Saavedra. Development and Application of Automated Channel Extraction From LiDAR in Chesapeake Bay Watersheds: Effects of Physiography and Land-use.  AWRA Conference, November 2018, Baltimore, MD.
Baker, ME. Seeing the forest for the trees: mapping and characterizing Baltimore's forest patches.  Oral Presentation at the Baltimore Ecosystem Study Annual Meeting.  Ootober 2018, Baltimore, MD.
Baker, ME. What we have learned about Baltimore forest patches. Oral Presentation for Baltimore's Fantastic Forest Forum, Cylburn Arboretum, November 2017, Baltimore MD.
Baker, ME, D Jones, E Woytowitz, A Miller. Alternative models of hydrogeomorphic connectivity in urbanizing Piedmont landscapes. Society for Freshwater Science Annual Meeting. May, 2017. Raleigh, NC.
Ph.D. Students
Peter Claggett (UMBC-GES), Alex Rittle (UMBC-GES)
Master's Students
Hayley Oakland (UMBC-GES), Kaitlyn Holtsclaw (UMBC-GES)
Former  Students
Zach Clifton (MS 2018; USGS), Katherine Ralston (MS 2017), Molly Van Appledorn (MS 2009, PhD 2016, @USGS), Dan Jones (MS 2013, @USGS), Haley Martin (MS 2012, @BCCC), Christina Simini (MS 2012, @ECS Mid-Atlantic), Matthew Panunto (MS 2012, @USFS), Mattie Whitmore (MS 2012, @Booze Allen), Andrew Hill (MS 2010, @BLM), Amanda Schulz (MS 2010)
Courses Taught
Graduate Research Methods, Physical Geography, Watershed Science and Management, Forest Ecology, Watershed Analysis & Modeling, Riparian Ecosystems, Applied Landscape Ecology