Matthew Baker »
Dawn Beihler »
Erle Ellis »
Jeff Halverson »
Margaret Buck Holland »
David Lansing »
Andrew J. Miller »
Sandy Parker »
Steward Pickett »
Christopher M. Swan »
Junmei Tang »
Claire Welty »
---
David Lansing
Calculating Carbon: Expertise and Power in the Creation of Carbon Forestry Offsets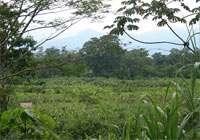 This project examines the social relations of power, knowledge, and technology that are involved in establishing carbon offsets among indigenous smallholders in Costa Rica. It examines how complex agricultural practices are interpreted by scientists and economists in the process of creating a carbon "price tag" for land use changes, and the resulting impacts of this process on indigenous land use and livelihoods.
Funding: Social Science Research Council
IIE Fulbright
Understanding the Effectiveness of Ecosystem Service Payments: An Analysis of the Conditions of Additionality Among Smallholders in Costa Rica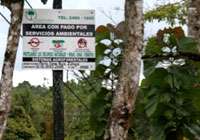 This project examines the effectiveness of Costa Rica's long–running payments for ecosystem services program among smallholders. It does so by testing whether state payments are producing additional forest cover or subsidizing status quo patterns of reforestation. It also examines the role of various other state institutions in encouraging forms of fallow management in ways that create potential sites where PES can be additional. Doing so, this project contextualizes PES outcomes within historically and geographically complex state–peasant relationships.
Funding: National Science Foundation
Maryland Institute for Policy Analysis and Research
---
Junmei Tang
The Analysis of Spatial–Temporal Dynamics of Urban Landscape Structure: A Comparison of Two Petroleum-Oriented Cities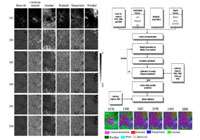 This research project developed a fuzzy cellular automata model based on the subpixel fractions extracted from multitemporal satellite images and discusses the relationship between sophisticated remote sensing techniques and an urban process model within the socioeconomic dimension. The major objectives include incorporating the subpixel membership derived from remote sensing images into fuzzy cellular automata model and calibrate this subcell urban landscape models.
Funding: UMBC Internal Funding: Summer Faculty Fellowships (SFF)
Threatened Urban Green Places: A Gradient Analysis of Economic and Ecological Values of Greenness in Baltimore-Washington Corridor Area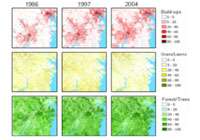 This research project identified economic and ecological function of urban greenness and to examine how they changed during the urbanization in Baltimore-Washington corridor area in recent 20 years. We investigated the vegetation pattern and change, identify the role of urbanization in the change of biophysical parameter of urban tree through field measurement and advanced remote sensing techniques.
Funding: UMBC Internal Funding: Summer Faculty Fellowships (SFF)
Collaborators: Stuart S. Schwartz, faculty
Weibing Wang, student
Moving Beyond Structural Heterogeneity and Process Complexity in an Agricultural Watershed: An Integrative Social-Ecological-Hydrological Framework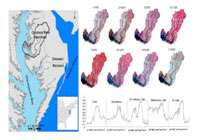 This research project will integrate research and education activities that investigate socioeconomic development, biogeophysical conditions, ecological dynamics and hydrological process to explore the trajectories of nutrient transportation in agricultural watersheds. The work will analyze how these processes impact the heterogeneous structure and complex process of the basin in agricultural settings.
Funding: NSF, pending.
Collaborator: Weibing Wang, student
Satellite–Derived Mechanism Studies on Socioeconomic Development, Urban Land Use, and Climate Change in the Urbanized United States: An Interdisciplinary Social-Ecological-Atmospheric Framework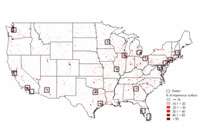 The principal objective of this proposal is to develop an interdisciplinary framework to incorporate the multiple NASA satellite images to systematically study the land surface process and its impact on the carbon sequestration and greenhouse gas emission in the highly urbanized area of the United States.
Collaborators: Jianwu Tang (Marine Biology Laboratory), faculty
Qianlai Zhang (Purdue University), faculty
---
Dawn Beihler
Community environmental management, mosquito control, and environmental justice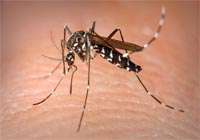 In collaboration with vector ecologists and public health scholars at Cary Institute of Ecosystem Studies and University of Maryland, College Park, this project examines community participation in control of mosquitoes that carry West Nile Virus. UMBC researchers conduct community meetings and focus groups and facilitate data collection by citizen–scientists.
Funding: pending
Collaborators: Takiya Louers, student
---
Claire Welty
Regional Climate Variability and Patterns of Urban Development – Impacts on the Urban Water Cycle and Nutrient Export (1/1/11-12/31/15)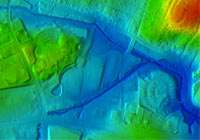 The goal of this project is to evaluate interactions between urban development patterns and the hydrologic cycle and associated nutrient cycles, within the context of regional and local climate variability. Our specific objective is to create a modeling system capable of simulating the feedback relationships that control urban water sustainability.
Funding: NSF Water Sustainability and Climate Program. Total project budget $5,000,000; UMBC budget $1,400,000.
Collaborators: Andrew J. Miller, faculty
Michael McGuire (Towson), faculty
Elie Bou-Zeid (Princeton), faculty
James Smith (Princeton), faculty
Elena Irwin (Ohio State), faculty
Peter Groffman (Cary Institute of Ecosystem Studies), faculty
Sujay Kaushal (University of Maryland-College Park), faculty
Art Gold (URI), faculty
Charles Towe (Penn State), faculty
Allen Klaiber (University of Maryland-Colege Park), faculty
Morgan Grove (U.S. Forest Service), faculty
Ed Doheny (U.S. Geological Survey), faculty
Dynamic Coupling of the Water Cycle with Patterns of Urban Growth (9/1/07-8/31/11, currently in no-cost extension)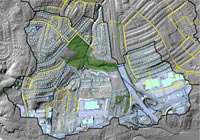 This project links an urban growth model (SLEUTH) with a fully–coupled, physically–based three–dimensional hydrologic model (PARFLOW–CLM) to evaluate the effects of growth on water availability and limits to water supply using the Baltimore metropolitan region as a case study.
Additional work involves investigation of the relationship between ages and patterns of urban development and watershed hydrologic response to storm events.
Project Site: http://userpages.umbc.edu/~weltyc/biocomplexity.html
Funding: NSF Coupled Natural and Human Systems Program. Total project budget $1,400,000; UMBC budget $853,646.
Collaborators: Andrew J. Miller, faculty
Bernadette Hanlon (formerly UMBC, now Ohio State), faculty
Michael McGuire (formerly UMBC, now Towson), faculty
James A. Smith (Princeton), faculty
Mary Lynn Baeck (Princeton), faculty
Claire Jantz (Shippensburg), faculty
Scott Drzyzga (Shippensburg), faculty
Reed Maxwell (Colorado School of Mines), faculty
Ed Doheny (U.S. Geological Survey), faculty
Garth Lindner (Geography and Environmental Systems), graduate research assistant
Aditi Bhaskar (Chemical, Biochemical and Environmental Engineering), graduate research assistant
---
Steward Pickett
Baltimore Ecosystem Study, Ecological Research Phase III: Adapative Processes in the Baltimore Socio-Ecological System – From the Sanitary to the Sustainable City (11/1/10-10/31/16)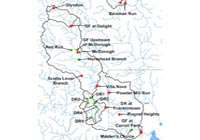 The third phase of the Baltimore Ecosystem Study builds on 13 years of experience in establishing a platform for integrated urban ecological and social research, education, and outreach. BES III takes advantage of the growing shift of urban areas toward sustainability policies, and the need to scientifically understand and evaluate the adaptive processes proposed to promote urban sustainability.
Project Site: http://www.beslter.org/
Funding: NSF Long–Term Ecological Research Program. Total project budget $5,640,000. Miller subcontract $30,000.
Collaborators: For co–PIs see project site.
Colleen Gardina, undergraduate research assistant
Brad Borowy, undergraduate research assistant
---
Andrew J. Miller, subcontract with McCormick-Taylor (1/1/11-12/31/12)
Patapsco Dam Removal Sediment Study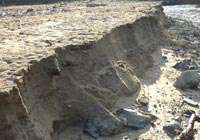 I am serving along with Peter Wilcock (Johns Hopkins University) and Melinda Daniels (Kansas State University) as consultant to this project which involves monitoring of sediment remobilization from the site of the Simkins Dam on the Patapsco River. The dam was removed at the end of November 2010.
Funding: American Rivers and NOAA, $11,297
---
Jeff Halverson
High–Impact Meteorology and Weather Hazards in the Washington–Baltimore Urban Corridor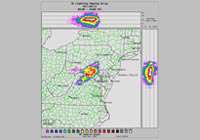 This is a study of lightning frequency mapped to the physiographically diverse landscape of Chesapeake Bay – urban corridor – Blue Ridge mountains, using a high resolution lightning detection and mapping system. The goal is to ascertain whether lightning intensity is related to the anthropogenic landscape, through generation of local meteorological boundaries and/or high concentration of air pollutants.
Project Site: http://umbcstormpage.blogspot.com/
Collaborators: Aaron Poyer, Ph.D candidate (Halverson)
Factors Leading to Intensity Change in Tropical Cyclones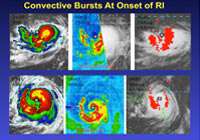 Hurricane intensity change remains poorly forecast, compared to track and landfall location. For decades, NASA has used a combination of satellites and high altitude research aircraft to study the physics of tropical cyclones, with the goal of better understanding the genesis and rapid intensification of Atlantic basin storms. Our research examines the relationship between eye wall thunderstorms, intense lightning and the warm core of the storm's eye.
Photo shows: Inner core structure of Hurricane Earl (2010) showing cloud top temperature (left panels), rain intensity (middle panels) and lightning strike locations (right panels).
Project Site: http://www.nasa.gov/mission_pages/hurricanes/bios/halverson_bio.html
Collaborators: Owen Kelley, faculty
Gerry Heymsfield, faculty
Scott Braun (NASA), faculty
Janel Thomas, MS Candidate (Halverson)
Alexandra St. Pe, MS Candidate (Halverson)
Heavy Precipitation and Flooding in the Appalachians Arising From Mesoscale and Synoptic Scale Storms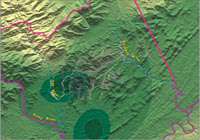 Flash floods are a leading source of mortality and property damage in the U.S. This research investigates the special vulnerability of the Appalachians to periodic floods arising from local thunderstorms, and also large-scale disturbances such as Nor'easters and post–tropical disturbances (tropical storms and hurricanes).
Photo shows: Contours of heavy rainfall mapped to steep terrain and debris flows across central Nelson County during Hurricane Camille (1969).
Project Site: http://umbcstormpage.blogspot.com/
Collaborators: Thomas Rabenhorst, faculty
Andrew Miller, faculty
Janel Thomas, student
Alexandra St. Pe, student
Laura Merner, student
Dan Jones, student
Matthew Panunto, student
Garth Linder, student
---
Margaret Buck Holland
Land Tenure, Deforestation & Environmental Governance in Ecuador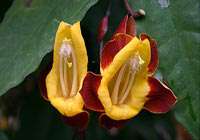 This research focuses on the influence of land tenure on forest change across areas critical for ecosystem services in the Amazon. We communicate these results to improve targeting of Ecuador's ecosystem services incentive program, SocioBosque. The next phase of this research will be to evaluate the socioeconomic impacts of SocioBosque.
Funding: Original funding for this research has been provided by: USAID's Translinks Program, the Land Tenure Center at University of Wisconsin-Madison, and Conservation International.
Collaborators: Lisa Naughton–Treves, PhD – University of Wisconsin–Madison
Luis Suárez – Conservación Internacional, Ecuador
Free de Koning, PhD – Conservación Internacional, Ecuador
Manolo Morales – Ecolex, Ecuador
Susana Lastarria, PhD – University of Wisconsin–Madison
Brian Robinson, PhD – University of Minnesota
Kelly Wendland, PhD – University of Idaho
Legacies of the Mesoamerican Biological Corridor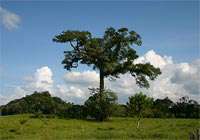 We are assessing the relative impact of trans–boundary conservation efforts related to the Mesoamerican Biological Corridor (MBC) in Central America. Our goal with this project is to identify the achievements the MBC enabled in the region related toenvironmental policy and governance from the local to regional scale.
Funding: Conservation International and UMBC's URAS award
Collaborators: Celia Harvey, PhD – Conservation International
Lauren Kelly, IEG – World Bank
Tyler McCafferty, UMBC (URAS award recipient) (Fall 2011 – Spring 2012)
Kelley Mason, UMBC (Spring 2012)
---
Sandy Parker
The History and Evolution of State and Federal Parks and Forest Reserves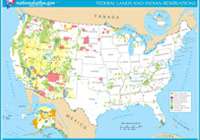 Research is focused on the evolution of public lands in the United States with particular interest in the role the federal government played in the establishment of state park and forest lands in the 20th century. In part, the research explores the tension between conservation and preservation in the early to mid 20th century.
---
Christopher M. Swan
Community Assembly in Riverine Networks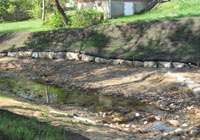 We are studying stream restoration practice as a foundation to understand how spatial position in river networks mediates the relative role of local (e.g., habitat features) and regional (e.g., dispersal) factors drive local species composition, and turnover in composition across stream reaches.
Funding: National Science Foundation, $600,000 (DEB-1026086)
Collaborators: Matthew Baker, faculty
Bryan Brown (Virginia Tech), faculty
Tara Willey, student
Socio–Economic Constraints on Community Assembly in Urban Ecosystems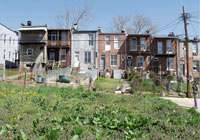 Traditional ecological theory cannot completely explain species coexistence in urban ecosystems. In an effort aid decision-makers in their development of sustainability plans, we are taking both survey and experimental approaches to look at the coupled ecological and socioeconomic factors that generate plant biodiversity at multiple spatial scales in Baltimore.
Funding: NSF-LTER
Collaborators: Anna Johnson, student
Local Versus Regional Constraints on Species Coexistence in Novel Habitats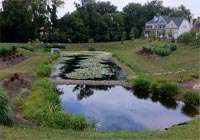 Management of urban stormwater detention ponds involve meeting multiple goals, including reducing runoff, attenuating stormflow, and in residential contexts, aesthetics. Since these features are rapidly replacing wetlands in the built environment, we are investigating the ecological structure and function of these novel habitats compared to their native counterparts.
Funding: NSF-LTER
Collaborators: Bryan Brown (Virginia Tech), faculty
Kate Brundrett, student
---
Erle Ellis
GLOBE: Evolving New Global Workflows for Land Change Science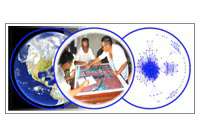 GLOBE aims to transform land change science by creating new global scientific workflows that integrate local–, regional– and global–scale researchers, expertise and data based their global relevance using an online collaboration environment leveraging social–computational algorithms and real–time quantitative global and statistical visualization.
Project Site: http://globe.umbc.edu
Funding: NSF Grant: CNS 1125210
Collaborators: Tim Oates, faculty
Tim Finin, faculty
Wayne Lutters, faculty
Penny Rheingans, faculty
Anita Komlodi, faculty
Matt Schmill, faculty
Nick Magliocca, student
Ecosynth: 3D Ecological Mapping Using Computer Vision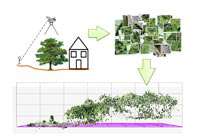 Ecosynth is a system that ecologists can use to make 3D scans of vegetation structure and potentially species at their own study sites at a relatively low cost. This approach uses computer vision software to enable personal, user–based remote measurement of ecosystems comparable to what can be accomplished with satellite or airplane based technology, but with the use of off-the-shelf digital cameras and low to high grade hobbyist remote controlled aircraft.
Project Site: http://ecotope.org/ecosynth/
Funding: US Forest Service
Collaborators: Marc Olano, faculty
Geoffrey Parker, faculty
Jonathan Dandois, student
Anthromes: Building a Human Framework for Ecology & Earth Science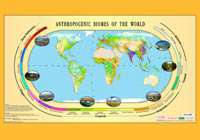 Humans have become primary global shapers of ecosystem form, process, and biodiversity, on a par with the forces of climate and geology. The Anthromes Working Group aims to investigate, understand and model human transformation and management of the terrestrial biosphere based on the concept of Anthromes (Anthropogenic Biomes) as a new paradigm for incorporating human systems into global ecology and earth science research and education for the Anthropocene.
Project Site: http://ecotope.org/anthromes
---
Matthew Baker
Thresholds in Aquatic Communities in Response to Ex-Urbanization and Environmental Change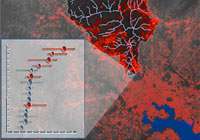 Biotic consequences of watershed urbanization are typically assessed using space-for-time substitutions. We are building a 25-year 'space-time stack' of impervious surface expansion in the Baltimore-Washington metropolitan area from satellite imagery and seeking evidence of coincident chemical and biotic changes in stream monitoring data across more than 100 sampling locations.
Funding: MD SeaGrant $87,000
Collaborators: Joseph Sexton, faculty
Haley Martin, MS student
Matthew Schley, BS student
New Analytical Approaches for Detecting Community Response to Environmental Gradients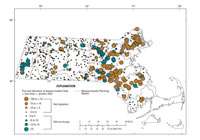 Many anthropogenic activities that degrade aquatic communities are correlated in space and time. We are developing a multivariate approach for detecting fish community responses to stream flow alteration in Massachusetts that will help distinguish the confounding effects of impervious surface, water sourcing, and thermal gradients throughout the state.
Funding: US Geological Survey, US Environmental Protection Agency, MA Dept. Fish and Game
Collaborators: David Armstrong, faculty
The Role of Riparian Hydrology and Geomorphology in Contributing to Regional Greenhouse Gas Emissions (USDA-CSREES)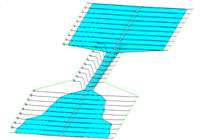 Depending on their hydrologic dynamics, wetlands that are excellent water quality filters may also produce large amounts of greenhouse gasses. As part of understanding the biogeochemical contributions of these ecosystems across central Indiana, we are examining the effect of river valley segment sequencing on the hydroperiod of large river floodplains.
Funding: USDA-CSREES $398,000
Collaborators: Pierre Jacinthe, faculty
Philippe Vidon, faculty
Matthew Panunto, MS student
Assessment of Ecosystem Condition and Climate Change in Grand Teton National Park (NPS)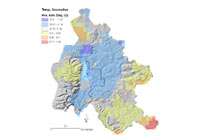 Understanding the impact of climate change on relatively pristine National Parks involves understanding both regional trends in temperature and precipitation as well as their effect on landscape dynamics. We investigated departures from long term regional climatic trends in Grand Teton NP to identify potential biophysical consequences for its iconic landscape.
Funding: US Park Service $100,000
Collaborators: Doug Ramsey, faculty
Jack Schmidt, faculty
A Strategic Planning Tool For Targeted Buffer Restoration and Enhanced Riparian Stewardship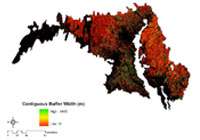 Riparian buffers, forest or wetland between human activity and stream channels, can be effective at filtering upslope nutrient discharges in agricultural landscapes. We developed a new set of analytical tools that use land cover, topography, and stream maps to measure buffer width across any landscape and prioritize conservation and restoration activity.
Project Site: http://ches.communitymodeling.org/models.php
Funding: NOAA CICEET $306,000
Collaborators: Pablo Vigliano, faculty
Nicolaas Bouwes, faculty
Luciana Barone, PhD student
Biophysical Controls On Invasion Success in Low-Productivity Environments: Exotic Trout in Andean Patagonia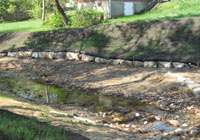 Over the past 100 years, several species of exotic trout have been introduced to a large, ultra-oligotrophic Andean lake. However, surveys suggests that these species have differentially and unevenly colonized many tributaries. Our research seeks to understand how ecological and physical processes contribute to observed distributions and their evolutionary consequences.
Project Site: http://ches.communitymodeling.org/models.php
Funding: Argentinian National Scientific and Technical Research Council (CONICET)
Collaborators: Donald Weller, faculty
Thomas Jordan, faculty
Molly Van Appledorn, MS student
Controls on Floodplain Forest Community Assembly in Lower Michigan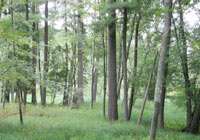 River floodplain forests are known for their dynamic environments and diverse species assemblages. We are using novel geographic analysis, observational study, and experimental approaches to understand the role of environmental filtering and meta-community dynamics across a range of hydrologic and geomorphic contexts throughout Lower Michigan.
Collaborators: Molly Van Appledorn, PhD student